Fostering an open and active German-American community
There's always something happening in the context of our statewide efforts to welcome American families to their new home away from home:
German-American celebrations,
Recurring informal get-togethers,
Distribution of welcome bags to new American families,
Local cooking classes for Americans,
City tours in English,
and much more.
Take a look at the next events in this program and feel free to be a part of them!
Furthermore, our communities participating in this state program are making big efforts to support you settle in the local area by providing information in English about upcoming local events. This is meant to make it easier for you to get to know what's happening close to you and help you participate in the communal life. After all, your community strives after an open and active German-American relationship and wants to letz you know that you're more than welcome to prosper as member of the community. Check out their next activities and join in!
Next program events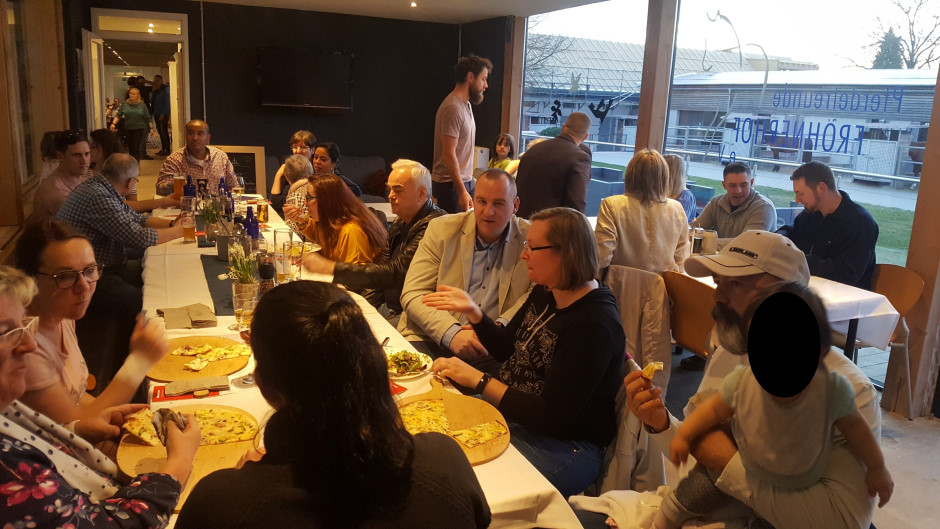 German-American Stammtisch Mehlingen - 06/27: 6 p.m.
The state initiative "Welcome to Rheinland-Pfalz!" and the town of Mehlingen host the second "German-American Stammtisch Mehlingen" at 6.00 pm at the restaurant Hof Reitstube. The Stammtisch aims at facilitating the local German-American exchange and provides a recurring forum for Americans and locals to meet and get to know each other.
Are you interested? Come out, chat with nice people at this family friendly event, and learn about the local way of life over dinner! Free admission, family friendly event.
German-American Friendship Fest Baumholder - 08/11: 10 a.m.
The German American Fest will include a Streetfood Festival at the parking lot close to the city lake in Baumholder. Get set for a free children's program, music, fun, and a get-together for families and friends of both nations!
On Sunday, a shuttle bus will be provided at no cost. The route starts at the parking lot at Wagon Wheel Theater and the parking lot across building 8875 on Wetzel Kaserne.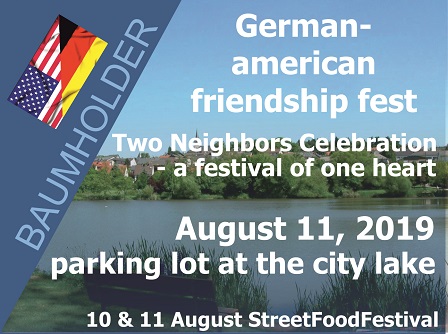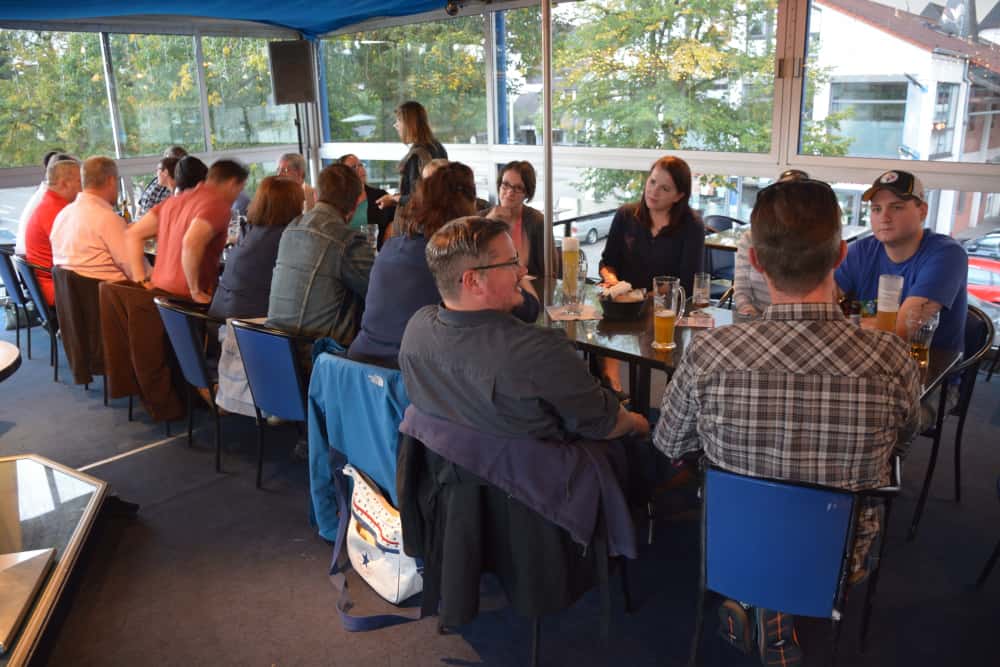 German-American Stammtisch Ramstein - 08/16: 6.30 pm
We host our next meeting of the German-American Stammtisch Ramstein on August 16, 6.30 pm at the venue of the German-American Fair in Ramstein (John F. Kennedy Square) with the friendly support from local volunteers.
The Stammtisch aims at facilitating the local German-American exchange and provides a recurring forum for Americans and locals to meet and get to know each other.
Come out, chat with your neighbors, and learn about the local way of life over dinner! Join the Facebook group of the Stammtisch to stay in touch: https://goo.gl/jB67r9
All upcoming community events
08/24-26: Miesenbach Fair

Miesenbach Fair

Am Marktplatz

66877 Miesenbach

Short description

On the last weekend in August Miesenbach traditionally celebrates its village fair with music and entertainment. The fairground with its rides and booths selling sweets in the center of Miesenbach will be a treat especially for young visitors.

Dampfnudelfest

Turmstraße 3

66879 Steinwenden

Time

2 p.m.

Host

Förderverein Heimatmuseum

08/30-09/03: Funfair in Katzenbach

Kerwe Katzenbach

Brunnenstr. 22

66882 Hütschenhausen

09/01-03: Otterberger fest

Otterberger Kerwe

Stadthalle

67697 Otterberg

Time

10 a.m. - 6 p.m.

Short description

Look forward to the annual Otterberger fest, which takes place on the fairground at the city hall! A colorful program with many attractions awaits the visitors! On all three days, there will be different rides and also a variety of delicacies like the popular "Otterburger"!

Contact information

Email: info(at)vg.otterberg.de

09/08: Arts & Crafts and Farmers Market Berglangenbach

Bauern- und Kunsthandwerkermarkt in Berglangenbach

Hauptstraße 28

55776 Berglangenbach

Time

11 a.m. - 6 p.m.

Short description

Farmers and artisan market with about 100 exhibitors. They present the region and its products. Regional farm products, handicrafts, and arts and crafts are on display. The culinary palette is varied. For children there is an animal exhibition, pony riding and kids' face painting. The program is rounded off by a vintage tractor show and the musical framing by local music clubs. The market stretches through the streets of the small village. At the heart of the event is the market hall, which offers a large selection of coffees and cakes accompanied by music.

Altkleidersammlung

In Obermohr

Time

8 a.m.

Host

Kolping Family

09/14-16: Town Fair & City Run

Kirmes in Baumholder mit Stadtlauf

Kennedyallee

55774 Baumholder

Short description

Get ready for three days of festivities with giant soccer, city run and live music in the Kennedyallee and at the market place. There will also be an odds and ends market on Monday. More information at www.baumholder.de

Ramstein Fair

Am Neuen Markt

66877 Ramstein

Short description

On this September weekend the market square in the center of Ramstein will turn into a fairground with rides and all sorts of booths selling sweets and a wide range of food and beverages. The official start of the hustle and bustle at the fairground will be the tapping of a barrel of beer on Saturday afternoon. Sunday afternoon the traditional raising of the fair pole will take place in front of the museum (Miesenbacher Strasse 1) accompanied by speeches and music.

09/22: Otterbach Carnival

Michaeliskerwe

Downtown

67731 Otterbach

Time

1 p.m.

Short description

As before, Otterbach celebrates the Michaeliskerwe on the 4th weekend in September.
The clubs, businesses and citizens have again put together a great program. After the opening on Saturday, 6 pm there will be a cheerful get-together.

The singing club Otterbach, the music club Otterbach and not to forget the youth group, frame the keg will be tapped on the fairground. The celebration starts after the opening in the tent and on the fairground, where showmen put together a colorful entertainment program for young and old.
The highlight on Sunday is the Kerwe parade, which leads through the decorated streets. Of course there are also funfair speeches. As you can see, a colorful and rich program invites you to celebrate.

09/20-24: Annual Fair in Reuschbach

Kerwe in Reuschbach

Ortsstraße 18

66879 Niedermohr

For many German villages it is typical to have annual fairs. These are casual get-togethers where you can spend time with family and friends as well as can meet new people.

You can have a Bratwurst and a Bier while the kids try out the rides.

10/04-08: Funfair in Spesbach

Kerwe Spesbach

Am Heidenhübel 2

66882 Hütschenhausen

10/11-15: Carnival in Steinwenden

Steinwendener Kerwe

Marktstraße

66879 Steinwenden

Short description

Once a year a small carnival is held at the Steinwenden market place.

Herbstfest

Hauptstraße 10

55774 Baumholder

Time

2 - 5 p.m.

10/19-20: Oktoberfest Spangdahlem

Oktoberfest

Hauptstraße 60

54529 Spangdahlem

The music association Spangdahlem hosts an entertaining Oktoberfest with Bavarian music, entertainment, coffee & cake, a kids corner, and much more in the community hall in Spangdahlem.

10/18-22: Funfair in Hütschenhausen

Kerwe Hütschenhausen

Hauptstr. 74a

66882 Hütschenhausen

Oktoberfest

Am Neuen Markt

66877 Ramstein

Time

Friday/Saturday 6 p.m.

Sunday 11 a.m. - 6 p.m.

Short description

Live Bavarian brass music in the big festival tent, German beer and Bavarian specialties will be offered. Friday and Saturday night local party bands will heat up the vibe starting at 8:00 p.m. On Sunday there is free admission to the festival tent from 11 a.m. to 6 p.m. Put on your Dirndl or Lederhosen and join the party!

10/26-27: Wendelinus Market

Wendelinus Market

Am Neuen Markt

66877 Ramstein

Time

11 a.m.

Short description

The Wendelinusmarket in Ramstein looks back on a tradition of more than 300 years. It started out as a "Thanksgiving" fair in honor of St. Wendelinus. Nowadays about 100 booths fill the entire town center on that occasion. The local stores will also be open on Saturday and Sunday, and food and beverages will be offered.

Herbstfest

TBD

GOOGLE MAPS

Time

6 p.m.

Host

OGV Weltersbach

Halloweenparty

Am Heidenhübel 2

66882 Hütschenhausen

Time

8 p.m.

11. Halloween Fest

Hauptstraße 8

67731 Otterbach

Time

5 p.m. - 12 a.m.