Fostering an open and active German-American community
There's always something happening in the context of our statewide efforts to welcome American families to their new home away from home:
German-American celebrations,
Recurring informal get-togethers,
Distribution of welcome bags to new American families,
Local cooking classes for Americans,
City tours in English,
and much more.
Take a look at the next events in this program and feel free to be a part of them!
Furthermore, our communities participating in this state program are making big efforts to support you settle in the local area by providing information in English about upcoming local events. This is meant to make it easier for you to get to know what's happening close to you and help you participate in the communal life. After all, your community strives after an open and active German-American relationship and wants to letz you know that you're more than welcome to prosper as member of the community. Check out their next activities and join in!
Next program events
Let's Talk! - 01/31: 11 am
Grab the chance and provide your valuable input with regard to the German-American relationship on January 31, 11 am, at our office! Tell us about your first-hand experience and help shape the efforts of our statewide program Welcome to Rheinland-Pfalz!. We can exchange views on any matter of interest to you, just swing by for a casual cup of coffee and an insightful brainstorming!
Our office is located in Kaiserslautern, Lauterstr. 2, 3rd floor, room A 302.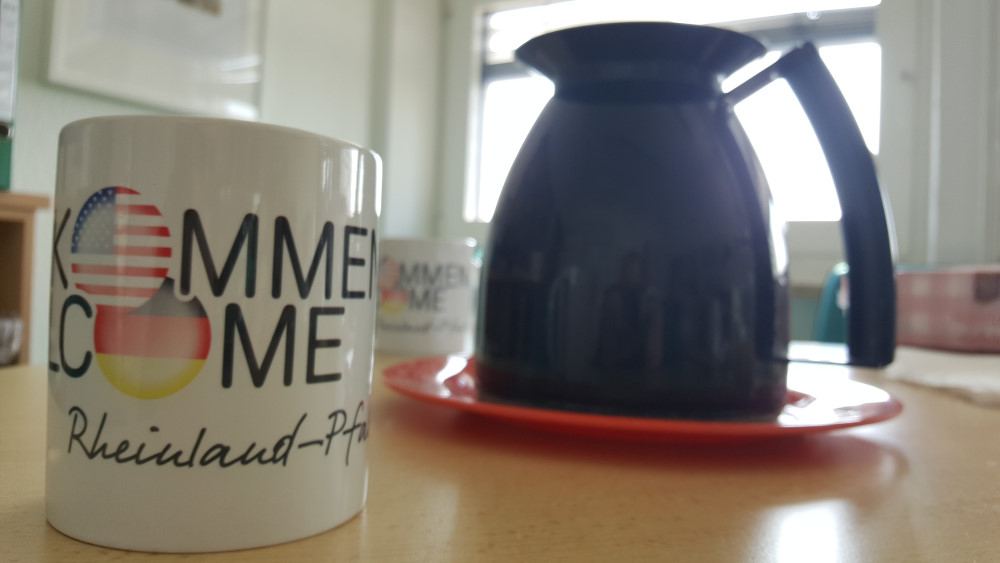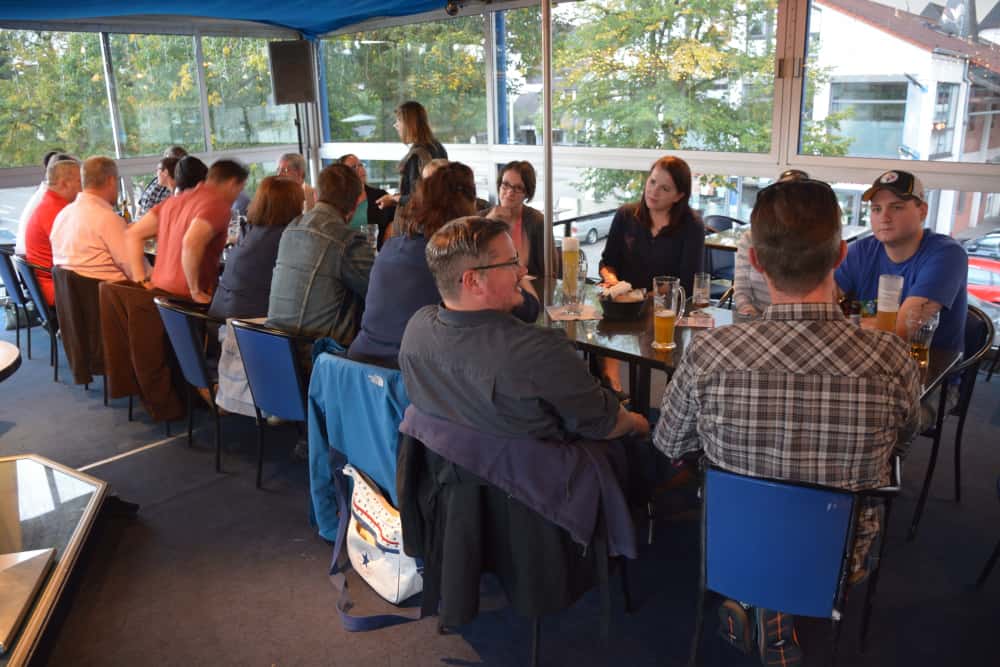 German-American Stammtisch Ramstein - 02/05: 6.30 pm
We host our next meeting of the German-American Stammtisch Ramstein on February 5, 6.30 pm at the Paradox restaurant with the friendly support from local volunteers.
The Stammtisch aims at facilitating the local German-American exchange and provides a recurring forum for Americans and locals to meet and get to know each other.
Come out, chat with your neighbors, and learn about the local way of life over dinner! Join the Facebook group of the Stammtisch to stay in touch: https://goo.gl/jB67r9
Brown Bag Luncheon: Taxes in Germany 101 - 03/14: 11 am
You want to start your own home-based business but are unsure what the concrete steps are? You would like to know more about how to pay your taxes in Germany? We're inviting you to an informative talk on taxation in Germany on March 14, where you can ask all your questions and mingle with like-minded business owners.
Find more details here.
All upcoming community events
Guided tour through the old smithy

Schmiede Theis

Kirchstr. 15

67697 Otterberg

Time

The old smithy is open to the public at 4 p.m. every first Saturday of the month. Admission is free

Short description

Originally built in 1612 outside the walls of the monastery, this estate has been in the possession of the Theis family for seven generations and was in use as a forge until as recently as 1980. The forge is one of the oldest in the region and has been fully restored as a farrier museum complete with a pair of leather bellows and a solid sandstone forge.

Contact information

Carnival Party

Am Neuen Markt 4

66877 Ramstein

Time

8.11 p.m.

Short description

Dress up in your favorite costume and join the party! The well-known regional party band "Habachtaler" guarantees great entertainment. Food and drinks as well as cocktails are available. The event starts at 8.11 p.m. Dress up in a costume and celebrate with the locals! Admission: € 8 advance sale/ € 10 at the door. For ticket reservations visit the box office or call at 06371-592220.

03/05: Ramstein Carnival Parade

Ramstein Carnival Parade

City center

66877 Ramstein

Time

2.11 p.m.

Short description

The big Westrich Carnival Parade is the highlight of the annual carnival season in the region. Thousands of visitors line the streets. Approximately 80 colorful floats, walking groups and marching bands including the USAFE Band parade through the city of Ramstein. The 3.2 km (2 miles) long route leads through the city center. Participants will be throwing out candies or handing out drinks to the spectators. It´s time for being crazy, cheering up and having fun. Put on your favorite costume and be a witness of the exceptional situation in downtown Ramstein! The parade starts at 2:11 p.m. and will take 2 hours. Parade badges will be sold among the spectators at the price of € 2. After the parade the carnival celebrations continue at the community center Haus des Bürgers as well as in the pubs and restaurants in Ramstein. All "Fasching" fans should not miss out on this big event.

Spring Ball

Am Neuen Markt 4

66877 Ramstein

Time

8 p.m.

Short description

The traditional spring ball of the Ramstein competitive dance club is an opportunity for everyone to take to the floor. Diverse entertainment including exhibition dancing promises a colorful and exciting evening.

05/18-19: Roadrunner Friendship Walk - Volksmarching

Roadrunner Friendship Walk - Volksmarching

Am Kiefernkopf 12 - Mehrzweckhalle

66877 Miesenbach

Time

7 a.m. - 5 p.m.

Short description

The Ramstein Roadrunners Volkssport Club hosts their annual spring walk with a choice of 5 km, 10 km, 15 km and 20 km trails.

06/14-16: Seewoog Festival

Seewoog Festival

Waldstrasse

66877 Miesenbach

Short description

Music, fun and entertainment for the young and old around the Seewoog lake. Free admission!

07/26-29: Heerbischda Festival

Heerbischda Fest

Festplatz

54662 Herforst

06/28 - 08/09: Ramstein Summer Nights

Ramstein Summer Nights

Am Neuen Markt

66877 Ramstein

Time

7 p.m.

Short description

From June 28 until August 9 the "Ramstein Summer Nights" take place on an open-air stage in front of the Ramstein city hall each Friday evening: Each theme night will have the focus on a different country with traditional music, food and drinks from that country. Enjoy the international flair in Ramstein – Free admission! Further dates: 5 Jul/ 12 Jul/ 19 Jul/ 26 Jul/ 2 Aug/ 9 Aug.

08/24-26: Miesenbach Fair

Miesenbach Fair

Am Marktplatz

66877 Miesenbach

Short description

On the last weekend in August Miesenbach traditionally celebrates its village fair with music and entertainment. The fairground with its rides and booths selling sweets in the center of Miesenbach will be a treat especially for young visitors.

Ramstein Fair

Am Neuen Markt

66877 Ramstein

Short description

On this September weekend the market square in the center of Ramstein will turn into a fairground with rides and all sorts of booths selling sweets and a wide range of food and beverages. The official start of the hustle and bustle at the fairground will be the tapping of a barrel of beer on Saturday afternoon. Sunday afternoon the traditional raising of the fair pole will take place in front of the museum (Miesenbacher Strasse 1) accompanied by speeches and music.

10/19-20: Oktoberfest Spangdahlem

Oktoberfest

Hauptstraße 60

54529 Spangdahlem

The music association Spangdahlem hosts an entertaining Oktoberfest with Bavarian music, entertainment, coffee & cake, a kids corner, and much more in the community hall in Spangdahlem.

Oktoberfest

Am Neuen Markt

66877 Ramstein

Time

Friday/Saturday 6 p.m.

Sunday 11 a.m. - 6 p.m.

Short description

Live Bavarian brass music in the big festival tent, German beer and Bavarian specialties will be offered. Friday and Saturday night local party bands will heat up the vibe starting at 8:00 p.m. On Sunday there is free admission to the festival tent from 11 a.m. to 6 p.m. Put on your Dirndl or Lederhosen and join the party!

10/26-27: Wendelinus Market

Wendelinus Market

Am Neuen Markt

66877 Ramstein

Time

11 a.m.

Short description

The Wendelinusmarket in Ramstein looks back on a tradition of more than 300 years. It started out as a "Thanksgiving" fair in honor of St. Wendelinus. Nowadays about 100 booths fill the entire town center on that occasion. The local stores will also be open on Saturday and Sunday, and food and beverages will be offered.

11/09: Saint Martin's Parade

Martinszug

Sponsor: Volunteer Firefighters

11/10: Saint Martin's Day

Martinsumzug

Schulstraße 30

54529 Spangdahlem

Short description

Come out and celebrate St. Martin's Day with the community. In the past years, there was always a bonfire and a procession with children carrying their (self-made) paper lanterns.

11/16-17: Pre-Christmas Arts and Crafts Market

Pre-Christmas Arts and Crafts Market

Am Neuen Markt 4

66877 Ramstein

Time

1 p.m. - 6 p.m.

Short description

About 60 crafters and vendors will present their handmade arts and crafts. Coffee, cakes and fresh cinnamon waffles will be offered.

11/28: Thanksgiving Roadrunner Turkey Trot - Volksmarching

Thanksgiving Roadrunner Turkey Trot - Volksmarching

Am Kiefernkopf 12 - Mehrzweckhalle

66877 Miesenbach

Time

8 a.m. - 3 p.m.

Short description

Each year at Thanksgiving the Ramstein Roadrunners Volkssport Club hosts the traditional turkey trot. Start and finish is the multi-purpose hall in Miesenbach. You have the choice of a 5 and 10 km trail. Admission fee 2 Euro.

12/06-08: Ramstein Christmas Market

Cinnamon and Waffle Market

Am Neuen Markt

66877 Ramstein

Time

Friday 6 p.m.

Saturday 3 p.m.

Sunday 1 p.m. - 8 p.m.

Short description

You are invited to the Christmas market in the center of Ramstein-Miesenbach. During the holiday season the fountain on the market square turns into the largest advent's wreath in the Pfalz. Grouped around it will be booths offering Glühwein, tasty foods, and Christmas items. Enjoy the holiday spirit and the music presented on the stage in front of the "Congress Center Ramstein". Free admission!

12/08: 47th German-American Christmas Concert

47th German-American Christmas Concert

Am Neuen Markt 4

66877 Ramstein

Time

4 p.m. - 6 p.m.

Short description

The German-American Christmas concert featuring the USAFE Band, the Ramstein-Miesenbach men's choir and the Ramstein-Miesenbach children's and youth choir looks back on a long tradition in the community. The performers will put you in a Christmas mood with their seasonal and festive tunes presented in the "Congress Center Ramstein".

Ticket reservation at the ticket office in the "Congress Center Ramstein"

Phone: 06371 592220