Fostering an open and active German-American community
There's always something happening in the context of our statewide efforts to welcome American families to their new home away from home:
German-American celebrations,
Recurring informal get-togethers,
Distribution of welcome bags to new American families,
Local cooking classes for Americans,
City tours in English,
and much more.
Take a look at the next events in this program and feel free to be a part of them!
Furthermore, our communities participating in this state program are making big efforts to support you settle in the local area by providing information in English about upcoming local events. This is meant to make it easier for you to get to know what's happening close to you and help you participate in the communal life. After all, your community strives after an open and active German-American relationship and wants to letz you know that you're more than welcome to prosper as member of the community. Check out their next activities and join in!
Next program events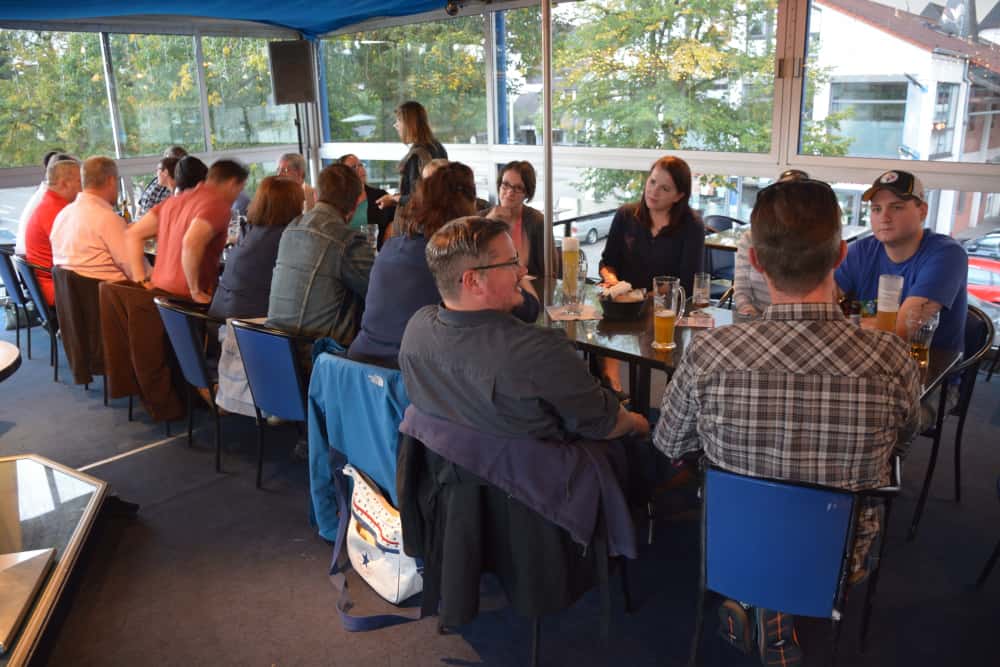 German-American Stammtisch Ramstein - 06/11: 6.30 pm
We host our next meeting of the German-American Stammtisch Ramstein on June 11, 6.30 pm at the Legends Family Sports Grill in Kottweiler-Schwanden, Reichenbacher Str. 66C, 66879 Kottweiler-Schwanden, with the friendly support from local volunteers.
The Stammtisch aims at facilitating the local German-American exchange and provides a recurring forum for Americans and locals to meet and get to know each other.
Come out, chat with your neighbors, and learn about the local way of life over dinner! Join the Facebook group of the Stammtisch to stay in touch: https://goo.gl/jB67r9
The Forgotten History. American Military Presence after World War I (1919-1923) - 06/14: 6 p.m.
Join us for an insightful lecture in English on June 14, 6 pm at the Congress Center Ramstein by the renowned historian Edward Lengel, Ph.D. What's often overlooked in our transatlantic discussions is that the first long-term encounters between Americans and Germans didn't occur in the course of the military occupation of Germany after WWII but rather already after WWI in 1918/19.
Please sign up for the event via email info(at)atlantische-akademie.de or phone (0631-366100).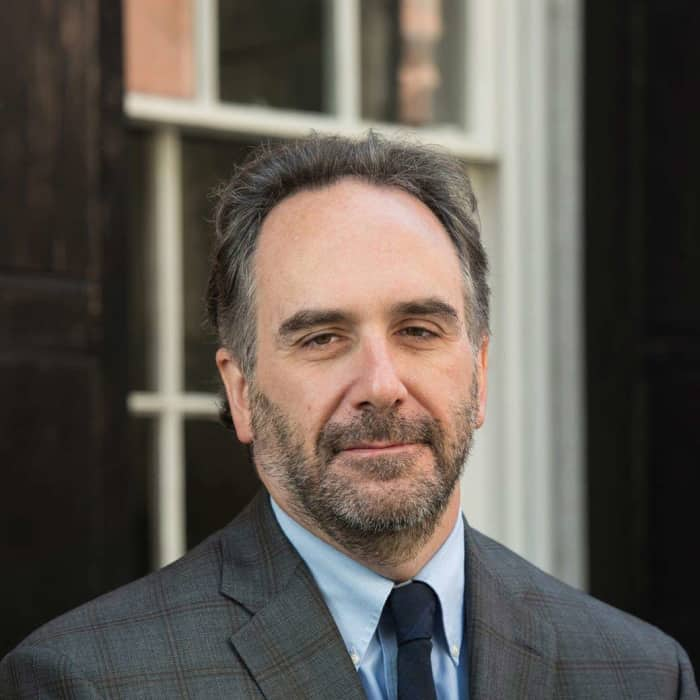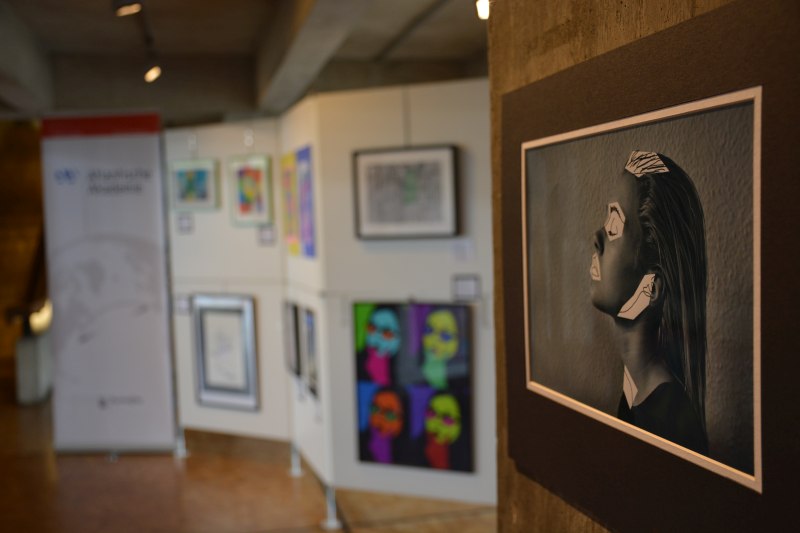 Art Exhibit: Communities in Living Color - Running through 06/06
The annual German-American art show showcasing creative and inspiring student works from all over in the Ramstein Town Hall! A variety of art works will be on display, all created by incredibly talented young students from DoDD schools as well as German and international students from local schools in Ramstein-Miesenbach. Paintings, photographs, ceramics-you name it, the creativity of these young artists knows no bounds.
All upcoming community events
09/22: Otterbach Carnival

Michaeliskerwe

Downtown

67731 Otterbach

Time

1 p.m.

Short description

As before, Otterbach celebrates the Michaeliskerwe on the 4th weekend in September.
The clubs, businesses and citizens have again put together a great program. After the opening on Saturday, 6 pm there will be a cheerful get-together.

The singing club Otterbach, the music club Otterbach and not to forget the youth group, frame the keg will be tapped on the fairground. The celebration starts after the opening in the tent and on the fairground, where showmen put together a colorful entertainment program for young and old.
The highlight on Sunday is the Kerwe parade, which leads through the decorated streets. Of course there are also funfair speeches. As you can see, a colorful and rich program invites you to celebrate.

09/20-24: Annual Fair in Reuschbach

Kerwe in Reuschbach

Ortsstraße 18

66879 Niedermohr

For many German villages it is typical to have annual fairs. These are casual get-togethers where you can spend time with family and friends as well as can meet new people.

You can have a Bratwurst and a Bier while the kids try out the rides.

10/04-08: Funfair in Spesbach

Kerwe Spesbach

Am Heidenhübel 2

66882 Hütschenhausen

10/11-15: Carnival in Steinwenden

Steinwendener Kerwe

Marktstraße

66879 Steinwenden

Short description

Once a year a small carnival is held at the Steinwenden market place.

Herbstfest

Hauptstraße 10

55774 Baumholder

Time

2 - 5 p.m.

10/19-20: Oktoberfest Spangdahlem

Oktoberfest

Hauptstraße 60

54529 Spangdahlem

The music association Spangdahlem hosts an entertaining Oktoberfest with Bavarian music, entertainment, coffee & cake, a kids corner, and much more in the community hall in Spangdahlem.

10/18-22: Funfair in Hütschenhausen

Kerwe Hütschenhausen

Hauptstr. 74a

66882 Hütschenhausen

Oktoberfest

Am Neuen Markt

66877 Ramstein

Time

Friday/Saturday 6 p.m.

Sunday 11 a.m. - 6 p.m.

Short description

Live Bavarian brass music in the big festival tent, German beer and Bavarian specialties will be offered. Friday and Saturday night local party bands will heat up the vibe starting at 8:00 p.m. On Sunday there is free admission to the festival tent from 11 a.m. to 6 p.m. Put on your Dirndl or Lederhosen and join the party!

10/26-27: Wendelinus Market

Wendelinus Market

Am Neuen Markt

66877 Ramstein

Time

11 a.m.

Short description

The Wendelinusmarket in Ramstein looks back on a tradition of more than 300 years. It started out as a "Thanksgiving" fair in honor of St. Wendelinus. Nowadays about 100 booths fill the entire town center on that occasion. The local stores will also be open on Saturday and Sunday, and food and beverages will be offered.

Herbstfest

TBD

GOOGLE MAPS

Time

6 p.m.

Host

OGV Weltersbach

Halloweenparty

Am Heidenhübel 2

66882 Hütschenhausen

Time

8 p.m.

11. Halloween Fest

Hauptstraße 8

67731 Otterbach

Time

5 p.m. - 12 a.m.

11/09: Saint Martin's Parade

Martinszug

Sponsor: Volunteer Firefighters

11/10: Saint Martin's Day

Martinsumzug

Schulstraße 30

54529 Spangdahlem

Short description

Come out and celebrate St. Martin's Day with the community. In the past years, there was always a bonfire and a procession with children carrying their (self-made) paper lanterns.

11/10: St. Martin's Parade

Martinszug

Kirchenstraße 4

66879 Steinwenden

Time

5 p.m.

Host

Kolping family

11/11: Saint Martin's Parade

St.-Martins-Umzug

Kirchenstraße 23

66882 Hütschenhausen

Time

5.30 p.m.

Laternenumzug an Sankt Martin

Hauptstraße 8

67685 Eulenbis

Time

6 p.m.

11/16-17: Pre-Christmas Arts and Crafts Market

Pre-Christmas Arts and Crafts Market

Am Neuen Markt 4

66877 Ramstein

Time

1 p.m. - 6 p.m.

Short description

About 60 crafters and vendors will present their handmade arts and crafts. Coffee, cakes and fresh cinnamon waffles will be offered.

11/17: National Day of Mourning

Volkstrauertag

Time

11 a.m.

Host

Community of Steinwenden

11/28: Thanksgiving Roadrunner Turkey Trot - Volksmarching

Thanksgiving Roadrunner Turkey Trot - Volksmarching

Am Kiefernkopf 12 - Mehrzweckhalle

66877 Miesenbach

Time

8 a.m. - 3 p.m.

Short description

Each year at Thanksgiving the Ramstein Roadrunners Volkssport Club hosts the traditional turkey trot. Start and finish is the multi-purpose hall in Miesenbach. You have the choice of a 5 and 10 km trail. Admission fee 2 Euro.